Well I guess if you're reading this post, you already know that my blog has a whole new look!! Thanks to Jessica at the Love List who did the graphic design work, my blog layout has become more gorgeous, and it is really a celebration of the many exciting developments which have been going on at Julie Neill Designs!
For starters, we have re-designed our website, with all new studio shots of our lighting, and we've included a copy of our catalog which can be viewed online! Here, give it a try.
We have designed many new and exciting pieces of lighting.
One of our most popular new pieces is the BonBon Chandelier. It's a cleaner, more simplified version of the Italian stlye wood and iron chandelier, and we dressed it up with a single strand of draped crystals.
Another piece which has quickly become a favorite is the Ingrid Lantern. This is a great example of our custom capabilities.
We had a client who loved the Ingrid Chandelier, but was looking for more of a lantern type of fixture, and hence the Ingrid Lantern was born!
Another piece that has been getting lots of attention is the "Plastered" Chandelier, which grew out of my love of the old french plaster chandeliers from the 1940's.
So we got together and designed something special, and now we have the Winters Chandelier.
And some sconces to match, too.
There has been so much going on that it has really been almost impossible to keep up with blogging, and I have missed it so much! There is so much I want to write about.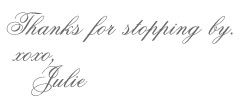 Labels:
bon bon chandelier
,
ingrid lantern
,
Julie Neill Designs Custom Lighting
,
Oak
,
plastered chandelier
,
the love list
,
winters chandelier
|
18 comments
|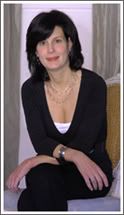 I am the owner of Julie Neill Designs in New Orleans where we create beautiful custom lighting. This blog is my love letter to the unique people, places and happenings which make New Orleans the amazing place it is.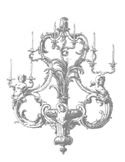 Please visit my website to learn more about my lighting and our fabulous shop on Magazine Street.

www.julieneill.com

My Blog List
Big News and Which Would You Choose?

-

Did you hear the exciting news? We announced yesterday that I have partnered with my favorite art company, Soicher Marin, to create a line of decorative fr...

18 hours ago

Two Words That Make Me Cringe!

-

I was reading something on-line and came across this statement: It's a hand-curated roundup of tips I don't share elsewhere. That one little sentence just...

1 day ago

The Pirch Effect

-

Back in December, I attended the launch party for the Atlanta opening of Pirch. In case you are not familiar with it, Pirch is a national kitchen, bath, ...

2 days ago

VALENTINE'S DAY GIVEAWAY!!!

-

It's that time of the year when we remember our significant other, and, hopefully, we are remembered by our significant other, or our children or parent...

3 days ago

Lighten Up

-

[Via Tumblr] Just to offer a palette cleanser (alternate spelling intentional) after the decadence of the previous post, here's a reminder of Whistler's oth...

6 days ago

New Art and Design Directions: Provocative Gallery Show

-

*'The Designer as Artist' a new and exclusive curated show opens January 29 at the Oliver Hawke Gallery in San Francisco.Created and shaped by San Fra...

1 week ago

Fretwork: Shanghai Original

-

On our recent trip to China, one of my favorite places to visit was the Yu Yuan Gardens in Shanghai. They were completed in 1577 and are really amazing to ...

1 week ago

My house is on the market!

-

Hi All! Paige here. My husband Mark and I have decided to sell our house and move on (literally) to Continue reading →

2 weeks ago

Thank you...

-

The week between Christmas and New Years is always a contemplative time for me. I like to slow down and think about the year that has passed and my goals f...

4 weeks ago

Merry Christmas!

-

The tree is trimmed, the stockings are hung, the gifts are wrapped, the Christmas Eve and Christmas Day meals are planned, the table is set.  Today is full o...

4 weeks ago

Outfit of the Week: No. 51

-

Lately I have been looking for a classic pair of black ankle strap sandals for holiday parties, but also just to have on hand as they are staple that wil...

1 month ago

Awakening to You Trilogy: Complete Story by Fifi Flowers

-

Warm up the Holiday Season with a Charming yet Suspenseful Story... Awakening to You Trilogy: Complete Story by Fifi Flowers US: http://www.amazon.comdp/B...

1 month ago

Patricia Gray's Taste of Life

-

[image: Patricia Gray Interior Designer] *Patricia Gray, award-winning interior designer and global aesthete* When Patricia Gray designed a residence fo...

2 months ago

Rustic farmhouse in grey...

-

It really feels like fall here finally and I can just imagine what a wonderful gift it would be to spend this season in a beautiful home like this. T...

3 months ago

Justa Decor Birthday Quiz!

-

WHOOT! It's that time again…the best day of the year! It's the Thrifty Justa Decor Girls' birthday! ;) If you are totally confused – today is my birthday. A...

3 months ago

Foodie Friday

-

*Hummus* One of my 'bff's' is a lovely Lebanese gal who is *ONE* fantastic cook. I asked her recently for her hummus recipe and like many good cooks she h...

8 months ago

Tuesday Tip

-

You can never have enough seating! So why not make it portable, flexible and a little thrifty? One of 2 benches in the client's foyer. This is exactl...

9 months ago

lately

-

Clearly I'm having a hard time blogging. Lots going on around here. I decided to renovate and add on to our house while very pregnant, which I would not ...

1 year ago

Kenneth Brown Came for a Visit!!

-

Last week, we were very excited to welcome the unparalleled Kenneth Brown to our shop! Here he is with me and Jennifer Uddo who is part of our Interior De...

2 years ago

Anna, ANNA, Anna!

-

Introducing you to my amazing friend, wife, mama of 3, artist & seriously cool girl! I love her art as much as her spirit. Anna has been painting & creat...

2 years ago

Mota-Scoota Time!

-

Here's the deal. We're getting a scooter. Namely, the scooter below. My first thought: "YEZZZZZZZ!" My second thought "Ummm, I'm going to really have ...

2 years ago

NEW BLOG!

-

HI EVERYONE! I GOT A NEW (EASIER TO USE FROM MY IPHONE! ) BLOG. PLEASE CLICK HERE TO GET TO THE NEW SITE AND CHECK IT OUT. THEBIGEASYLIFE.AMANDATALLEY.COM

3 years ago

Are you pinterested?

-

Pinterest. Wow, it is addictive. Like, scary addictive. Are you pinning yet? If you are, let me know, and I will follow you. Follow me here. Don't...

3 years ago

Absence makes the heart grow fonder...

-

Where have I been? Everywhere but here lately. There was a temporary shift in priorities and am now returning to my passions, including interior design. Ther...

4 years ago

NOLA Books

Labels
Acadiana Symphony Decorator Showhouse
All Things Bright and Beautiful
Ann Dupuy
Arthur Roger Gallery
Belle Grove
bon bon chandelier
chandelier giveaway
Chretien Point
Cole Pratt Gallery
Costumes
cote de texas
Craig Henry
Creole Houses
Creole Thrift
elizabeth chandelier
Farrington Smith Gallery
Faulkner House
fifi laughlin
Flavor Paper
Gallery Bienvenu
George Dureau
Gerrie Bremermann
Ghosts Along the Mississippi
Gogo Borgerding
handpainted furniture
Hazelnut
Henri Schindler
ingrid chandelier
ingrid lantern
Jennifer Shaw.
Jonathan Ferrara Gallery
Jonathan Shaw
Julie Neill
Julie Neill Designs Custom Lighting
Julie Neill Gallery
Karyl Pierce Paxton
Labatut House
Lafayette
Leontine Linens
Louisiana Homes and Gardens
Madeleine Castaing
Madewood
Mardi Gras
Mardi Gras Decorations
Mardi Gras Treasures
McLain Homes
Michelle Rosato Tullis
New Orleans Elegance and Decadence
New Orleans Homes and Lifestyles
New Orleans Museum of Art
New Orleans Style
Oak
Oak Alley
Ogden Museum
Parades
Paul Gruer
Peter Marino
plastered chandelier
Rex
Rosemary James
Soren Christensen Gallery
Southern Accents
Stylecourt
Swamp Palazzo
the love list
The Times Picayune
winters chandelier
Woodlawn Plantation

Blog Archive

Press Clippings