I can't begin to tell you how thrilled I am to be included in the latest issue of Art Galleries and Artists of the South.
The lighting I design has always been an outgrowth of my fine arts background.
Form, line, composition, rhythm, color and pattern, as well as classical proportions form the basis of my work.
My finishes come from years of working with paints and other media to create beautiful pieces which I see as jewelry for the rooms they inhabit.
The interior shot which is included  in the article comes from an absolutely gorgeous New Orleans home owned by Tom, a good friend and client. The house is located in the Garden District and I think he told me it was built around 1830. I had created several pieces for the more informal rooms in his house and now he was ready to get some pieces for his living and dining rooms.
The two rooms line up along the right hand side of the house and are separated by a cased opening, so the two chandeliers needed to relate to each other as well as to the grand proportions of the rooms.
Each would hang from an ornate plaster medallion which was original to the house.
We decided to place a custom sized "Sheldon" chandelier in the living room because the Tom wanted something open and airy, gilded and with crystals. He especially liked the beaded fronds which are featured on the central band.
As soon as it was hung, we knew it was perfect for the room!
Next, it was time to hang the one in the dining room. Working closely with Tom, I created a piece that would be a good partner for the one in the living room. It is also gilded with crystals, but more ornate and festive.
We made sure to hang it at just the right height for the table as well as for the mirror we wanted to reflect it.
It has twelve lights which hang in pairs from six places around the band. There are leaves on each arm as well as spokes which radiate out from the center which form a relationship with the medallion above.
The mirror placed over the mantel reflects both the living and dining room chandeliers, doubling the effect of each.
I love the spare and uncluttered look of these rooms which create the perfect backdrop for these two over the top chandeliers. Since these pictures were shot, the addition of some great pieces of art has made these rooms complete.
10 comments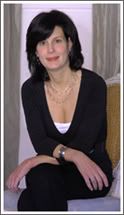 I am the owner of Julie Neill Designs in New Orleans where we create beautiful custom lighting. This blog is my love letter to the unique people, places and happenings which make New Orleans the amazing place it is.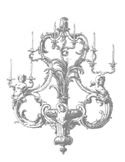 Please visit my website to learn more about my lighting and our fabulous shop on Magazine Street.

www.julieneill.com

My Blog List
December Journeys

-

[*Zorah Debout*, Henri Matisse. Oil on canvas. 1912. The State Hermitage Museum.] In *The Eye Has to Travel* the emphasis isn't on Vogue's September issu...

7 hours ago

Self-care (I mean Santa-care) Saturday!

-

I have a handful of favorite days and traditions every year. Today is one of them. It's not always the Saturday before Christmas, but each year there is at...

10 hours ago

Raoul Guiraud and Le Style Anglais

-

I was first introduced to the work of Parisian decorator Raoul Guiraud thanks to the cover of *Le Style Anglais, 1750-1850*. I admit that I purchased the...

1 day ago

The Christmas House: 2014 Edition

-

My dear friend Andrea, who owns Bosom Buddy Bags, is one of the most creative people that I know. Anything that she turns her hand to is creative, beauti...

2 days ago

Outfit of the Week: No. 51

-

Lately I have been looking for a classic pair of black ankle strap sandals for holiday parties, but also just to have on hand as they are staple that wil...

2 days ago

Dazzling Design: The New Paris Studio of Jean-Louis Deniot — Where the Magic Happens

-

*Interiors of Inspiration, Integrity, Polish, and Perfection* As you all know, I recently published a 280-page book, 'Jean-Louis Deniot Interiors' (Rizz...

3 days ago

Architectural Digest Jan. 2015

-

As seen in Architectural Digest January 2015 issue, the Bone Inlaid Armless Chair! Now available at VW-Home.com

5 days ago

Dogs Of Tracery

-

At Tracery, we sometimes let our furry friends work alongside us…and we LOVE when customers bring their pups by the Continue reading →

1 week ago

Awakening to You Trilogy: Complete Story by Fifi Flowers

-

Warm up the Holiday Season with a Charming yet Suspenseful Story... Awakening to You Trilogy: Complete Story by Fifi Flowers US: http://www.amazon.comdp/B...

1 week ago

A Little This and That

-

Today I have a few things I want to share with you. [image: image] First, the Winter Issue of Milieu is out and I really think this issue was ...

1 week ago

New post

-

Every fall, I research the latest and greatest book offerings in the décor, landscape, and art world and think about which ones I would like to add to my p...

1 week ago

Patricia Gray's Taste of Life

-

*Patricia Gray, award-winning interior designer and global aesthete* When Patricia Gray designed a residence for John Travolta ("JT," she calls him), "he...

4 weeks ago

my favorite things: covered bridges

-

Covered bridges were designed out of function, but I think they are so good looking. Whenever I visit upstate New York or New England I love to see them. T...

1 month ago

Rustic farmhouse in grey...

-

It really feels like fall here finally and I can just imagine what a wonderful gift it would be to spend this season in a beautiful home like this. T...

2 months ago

Justa Decor Birthday Quiz!

-

WHOOT! It's that time again…the best day of the year! It's the Thrifty Justa Decor Girls' birthday! ;) If you are totally confused – today is my birthday. A...

2 months ago

Foodie Friday

-

*Hummus* One of my 'bff's' is a lovely Lebanese gal who is *ONE* fantastic cook. I asked her recently for her hummus recipe and like many good cooks she h...

7 months ago

Tuesday Tip

-

You can never have enough seating! So why not make it portable, flexible and a little thrifty? One of 2 benches in the client's foyer. This is exactl...

8 months ago

lately

-

Clearly I'm having a hard time blogging. Lots going on around here. I decided to renovate and add on to our house while very pregnant, which I would not ...

1 year ago

Kenneth Brown Came for a Visit!!

-

Last week, we were very excited to welcome the unparalleled Kenneth Brown to our shop! Here he is with me and Jennifer Uddo who is part of our Interior De...

2 years ago

Anna, ANNA, Anna!

-

Introducing you to my amazing friend, wife, mama of 3, artist & seriously cool girl! I love her art as much as her spirit. Anna has been painting & creat...

2 years ago

Mota-Scoota Time!

-

Here's the deal. We're getting a scooter. Namely, the scooter below. My first thought: "YEZZZZZZZ!" My second thought "Ummm, I'm going to really have ...

2 years ago

NEW BLOG!

-

HI EVERYONE! I GOT A NEW (EASIER TO USE FROM MY IPHONE! ) BLOG. PLEASE CLICK HERE TO GET TO THE NEW SITE AND CHECK IT OUT. THEBIGEASYLIFE.AMANDATALLEY.COM

3 years ago

Are you pinterested?

-

Pinterest. Wow, it is addictive. Like, scary addictive. Are you pinning yet? If you are, let me know, and I will follow you. Follow me here. Don't...

3 years ago

Absence makes the heart grow fonder...

-

Where have I been? Everywhere but here lately. There was a temporary shift in priorities and am now returning to my passions, including interior design. Ther...

4 years ago

NOLA Books

Labels
Acadiana Symphony Decorator Showhouse
All Things Bright and Beautiful
Ann Dupuy
Arthur Roger Gallery
Belle Grove
bon bon chandelier
chandelier giveaway
Chretien Point
Cole Pratt Gallery
Costumes
cote de texas
Craig Henry
Creole Houses
Creole Thrift
elizabeth chandelier
Farrington Smith Gallery
Faulkner House
fifi laughlin
Flavor Paper
Gallery Bienvenu
George Dureau
Gerrie Bremermann
Ghosts Along the Mississippi
Gogo Borgerding
handpainted furniture
Hazelnut
Henri Schindler
ingrid chandelier
ingrid lantern
Jennifer Shaw.
Jonathan Ferrara Gallery
Jonathan Shaw
Julie Neill
Julie Neill Designs Custom Lighting
Julie Neill Gallery
Karyl Pierce Paxton
Labatut House
Lafayette
Leontine Linens
Louisiana Homes and Gardens
Madeleine Castaing
Madewood
Mardi Gras
Mardi Gras Decorations
Mardi Gras Treasures
McLain Homes
Michelle Rosato Tullis
New Orleans Elegance and Decadence
New Orleans Homes and Lifestyles
New Orleans Museum of Art
New Orleans Style
Oak
Oak Alley
Ogden Museum
Parades
Paul Gruer
Peter Marino
plastered chandelier
Rex
Rosemary James
Soren Christensen Gallery
Southern Accents
Stylecourt
Swamp Palazzo
the love list
The Times Picayune
winters chandelier
Woodlawn Plantation

Blog Archive

Press Clippings