I can't begin to tell you how thrilled I am to be included in the latest issue of Art Galleries and Artists of the South.
The lighting I design has always been an outgrowth of my fine arts background.
Form, line, composition, rhythm, color and pattern, as well as classical proportions form the basis of my work.
My finishes come from years of working with paints and other media to create beautiful pieces which I see as jewelry for the rooms they inhabit.
The interior shot which is included  in the article comes from an absolutely gorgeous New Orleans home owned by Tom, a good friend and client. The house is located in the Garden District and I think he told me it was built around 1830. I had created several pieces for the more informal rooms in his house and now he was ready to get some pieces for his living and dining rooms.
The two rooms line up along the right hand side of the house and are separated by a cased opening, so the two chandeliers needed to relate to each other as well as to the grand proportions of the rooms.
Each would hang from an ornate plaster medallion which was original to the house.
We decided to place a custom sized "Sheldon" chandelier in the living room because the Tom wanted something open and airy, gilded and with crystals. He especially liked the beaded fronds which are featured on the central band.
As soon as it was hung, we knew it was perfect for the room!
Next, it was time to hang the one in the dining room. Working closely with Tom, I created a piece that would be a good partner for the one in the living room. It is also gilded with crystals, but more ornate and festive.
We made sure to hang it at just the right height for the table as well as for the mirror we wanted to reflect it.
It has twelve lights which hang in pairs from six places around the band. There are leaves on each arm as well as spokes which radiate out from the center which form a relationship with the medallion above.
The mirror placed over the mantel reflects both the living and dining room chandeliers, doubling the effect of each.
I love the spare and uncluttered look of these rooms which create the perfect backdrop for these two over the top chandeliers. Since these pictures were shot, the addition of some great pieces of art has made these rooms complete.
10 comments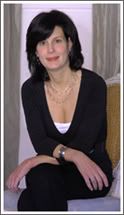 I am the owner of Julie Neill Designs in New Orleans where we create beautiful custom lighting. This blog is my love letter to the unique people, places and happenings which make New Orleans the amazing place it is.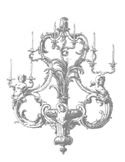 Please visit my website to learn more about my lighting and our fabulous shop on Magazine Street.

www.julieneill.com

My Blog List
She's Selling It–Her Forever House

-

So, earlier this week, I was getting ready for a quiet evening at home. We had ordered Chinese Food because my parents had ordered it on Sunday and ...

5 hours ago

Nevertheless…

-

As you might know, I designed a line of tea towels (you can find them on my Etsy page), last fall. It was a lot of fun thinking about the designs, working ...

10 hours ago

The Joy of Spring (Break)

-

Ah, Spring! I always love the change of seasons. And though Spring wasn't always my favorite (I'm typically a Fall sort of girl), in the last few years I h...

23 hours ago

Our new adventure... sheep!

-

Those of you who have followed our story for a while know that we have been adding a variety of animals to our family over the past few years. This weekend...

3 days ago

Celebrating the Great Gary Hutton

-

*The multi-talented San Francisco interior designer and furniture designer seems in mid-career, after four decades in the hurly-burly of design, interio...

3 days ago

New Offerings from Jim Thompson and No. 9 Thompson

-

I recently spent a pleasant morning at the Jim Thompson showroom at ADAC, perusing the new collections from both Jim Thompson and No. 9 Thompson. Both co...

1 week ago

COVER REVEAL... Saturday

-

SATURDAY: Light, Full Bodied & Screwed (Hookup Cafe, #6)... Cover by Susan Garwood of Wicked Women Designs Release May 13th - add to your GR TBR list ...

2 weeks ago

Tracery fabric

-

Hi all! Paige here. Did you know we have our own fabric line? It is available as pillows (22×22 and 12×20 lumbars), drape panels 108″, and by the yard. ...

1 month ago

Patrica Gray Interior Design Blog 3.5 Million Visitors

-

As 2016 is drawing to a close, I find myself reflecting on the past year. In the spirit of remembrance I would like to spend the last few days of the year...

2 months ago

Scouting Vuillard

-

[*Nature morte au bougeoir* (*The Candlestick*), Edouard Vuillard, circa 1900. Oil on millboard. National Galleries Scotland. Larger view here.] This po...

2 months ago

Quatreau Faucet

-

I recently discovered the Quatreau multifunctional touch screen faucet which I imagine would do just that. It delivers instant boiling, chilled, or sparkli...

3 months ago

A Fresh New Look

-

I have heard it said that a good rain shower is equivalent to offering a fresh start. As if the showers are washing away what was and offering an opportuni...

5 months ago

Sneak peek: the Atlanta Homes & Lifestyles 2016 Southeastern Showhouse

-

I was able to get a sneak peek of the the much anticipated Atlanta Homes & Lifestyles Southeastern Showhouse, and it is truly amazing. Many of the most tal...

11 months ago

Easter gift guide

-

If you're anything like me Amazon Prime rescues you from a late night run to Target right before every holiday. I've put together a few Easter gift idea...

1 year ago

INSPIRATIONS

-

*I walked down to Bush Antiques the other day to bite the bullet and buy a French three-quarters daybed that had been haunting me. I started to talking ...

1 year ago

Foodie Friday

-

*Hummus* One of my 'bff's' is a lovely Lebanese gal who is *ONE* fantastic cook. I asked her recently for her hummus recipe and like many good cooks she h...

2 years ago

Tuesday Tip

-

You can never have enough seating! So why not make it portable, flexible and a little thrifty? One of 2 benches in the client's foyer. This is exactl...

2 years ago

Kenneth Brown Came for a Visit!!

-

Last week, we were very excited to welcome the unparalleled Kenneth Brown to our shop! Here he is with me and Jennifer Uddo who is part of our Interior De...

4 years ago

Southern as a Sazerac: My Latest Article in The Independent Weekly Bridal Guide

-

Once upon a time there was a little girl who eloped. She wanted nothing more than to step out of the limelight and run from every part of planning a wedd...

5 years ago

Are you pinterested?

-

Pinterest. Wow, it is addictive. Like, scary addictive. Are you pinning yet? If you are, let me know, and I will follow you. Follow me here. Don't...

5 years ago

Absence makes the heart grow fonder...

-

Where have I been? Everywhere but here lately. There was a temporary shift in priorities and am now returning to my passions, including interior design. Th...

6 years ago

NOLA Books

Labels
Acadiana Symphony Decorator Showhouse
All Things Bright and Beautiful
Ann Dupuy
Arthur Roger Gallery
Belle Grove
bon bon chandelier
chandelier giveaway
Chretien Point
Cole Pratt Gallery
Costumes
cote de texas
Craig Henry
Creole Houses
Creole Thrift
elizabeth chandelier
Farrington Smith Gallery
Faulkner House
fifi laughlin
Flavor Paper
Gallery Bienvenu
George Dureau
Gerrie Bremermann
Ghosts Along the Mississippi
Gogo Borgerding
handpainted furniture
Hazelnut
Henri Schindler
ingrid chandelier
ingrid lantern
Jennifer Shaw.
Jonathan Ferrara Gallery
Jonathan Shaw
Julie Neill
Julie Neill Designs Custom Lighting
Julie Neill Gallery
Karyl Pierce Paxton
Labatut House
Lafayette
Leontine Linens
Louisiana Homes and Gardens
Madeleine Castaing
Madewood
Mardi Gras
Mardi Gras Decorations
Mardi Gras Treasures
McLain Homes
Michelle Rosato Tullis
New Orleans Elegance and Decadence
New Orleans Homes and Lifestyles
New Orleans Museum of Art
New Orleans Style
Oak
Oak Alley
Ogden Museum
Parades
Paul Gruer
Peter Marino
plastered chandelier
Rex
Rosemary James
Soren Christensen Gallery
Southern Accents
Stylecourt
Swamp Palazzo
the love list
The Times Picayune
winters chandelier
Woodlawn Plantation

Blog Archive

Press Clippings