One of my favorite New Orleans artists is Sidonie Villere. I first met Sidonie when she came to my shop to purchase a mirror for the new home she was moving into when she was moving back to New Orleans a few years ago. At the time, I was not familiar with her art. Later, when I first saw her pieces in Jonathan Ferrara's gallery, I was moved by how much of her personality and her soul is expressed in her amazing artwork.
.
Sidonie states that her work is "better understood by looking than by reading or describing." I think she's right on because her pieces, both sculpture and painting, and somewhere in between and encompassing both are best experienced in person.
Their emotion and intuition seeps into the viewer's soul, describing and implying  a feeling of the passage  from the dawn of time to the present. They seem to suggest the basics of human experience and at the same time, complex human emotions.
I love her use of hand shaped clay forms  to which she  applies paints, waxes and metallic leaf. Her forms are primitive and her surfaces are refined, creating a dramatic tension which gives her pieces a heart- throbbing feeling of the beauty and the rawness of our existence. They satisfy the soul as well as the eye.
Sidonie says that she takes her inspiration from geological forms and uses them as a metaphor for expressing human emotions.
When looking at these sculptural pieces, one can almost feel how the clay must have felt in the artist's hand, their tactile impression is so strong.
Her two dimensional works also vibrate with sensual texture  and portray a tension between the emotions associated with  both the epic and the personal.
Using the geological metaphor, Sidonie describes the passage of time through the ages and suggests the passing emotions inherent in human life.
Sidonie has created her own language for expressing her emotions through her artistic medium. Her work is intensely personal and yet it speaks to the basic nature in all of us. In the artist's own words, "I am going after the empathetic rather than the learned response." I think she achieves this, and therefore her work reaches the viewer.
The artist at work in her New Orleans studio.
I am proud to say that Sidonie Villere was born right here in New Orleans, and she received her BFA in ceramics at Newcomb College. She earned her MFA at the University of Massachusetts. Her work can be found in the New Orleans Museum of Art and the Jefferson Parish Courthouse and of course at the Jonathan Ferrara Gallery.
This active and busy artist has also curated a "Clay: A Compelling Expression" at the Jonathan Ferrara Gallery and several group shows for the National Council on the Education for the Ceramic Arts. And she even finds time to teach art at the Louise Mc Gehee School.
Read more about Sidonie and her work at her website and at Jonathan Ferrara's website, too.
8 comments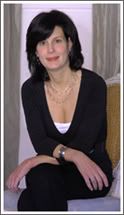 I am the owner of Julie Neill Designs in New Orleans where we create beautiful custom lighting. This blog is my love letter to the unique people, places and happenings which make New Orleans the amazing place it is.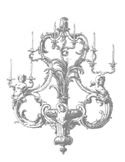 Please visit my website to learn more about my lighting and our fabulous shop on Magazine Street.

www.julieneill.com

My Blog List
Outfit of the Week: Pants to Love

-

~Theory linen-blend straight-leg navy pants~ ~Iris & Ink striped silk shirt~ ~Elsie suede d'Orsay pump (other colors available)~ ~Kenneth Jay Lane hammer...

10 hours ago

Tobi TV: Cooking with Style

-

As I told you yesterday, I'm moving out of my house this week! Wow! And there is one thing that I will miss more than anything else about my house. Can you...

16 hours ago

Old World Weavers

-

A recent windfall of late Seventies issues of *Architectural Digest* and *Southern Accents* provided me with another windfall: a clutch of Old World Weave...

16 hours ago

A Scintillating New Season: San Francisco Opera Fall 2015

-

*I'm looking forward to a very glittering opening night gala and a performance of passionate and elegantly staged 'Luisa Miller' at the San Fr...

1 day ago

Remembering

-

It was just before I went to bed one Saturday night that the news came on that Diana had been in a bad car accident in Paris. There were jumps to Paris, to L...

1 day ago

Trendy Cheap Chairs

-

[image: image] Remember the Ghost chair – it was everywhere from 2005 to 2010. [image: image] Even in this high-end home, the Ghost chair, or Louis Cha...

3 days ago

Tracery Drapery Sale

-

Our custom Tracery Drapery panels in 120″ lengths are on sale! We have the Tracery Rosewindow in driftwood & Citronn colorways and Fluting Stripe (As seen ...

1 week ago

Art Installation by Patricia Gray in Vancouver Luxury Vacation Condo

-

We have just finished an Interior Design installation for our clients' vacation home here in Vancouver. There is a piece of my art hanging in their stylish...

1 week ago

New York Design Hunting Sept. Issue

-

The 2016 winter edition of New York Design Hunting Magazine is the perfect paperback resource for all things transformational in design. As stated on the c...

1 week ago

frances schultz: the bee cottage story...

-

I am sharing Frances Schultz's book with you because it really resonated with me. The Bee Cottage Story is about Frances' journey of self discovery through...

2 weeks ago

LCI & Better Homes and Gardens, August 2015

-

I am thrilled that Better Homes and Gardens magazine has published one of our Charlotte projects in their August subscriber issue. If you aren't a subscrib...

1 month ago

Summer Fare

-

Throughout the summer I'll continue using Instagram and Tumblr to share book and exhibition news, as well as textile finds. But I'm quickly popping in he...

3 months ago

Finally finishing the living room decor

-

It's hard to believe we have been in our "new" house for three and a half years now! We have slowly but surely worked on the décor since we moved in, with a ...

3 months ago

ENJOY a Fifi Flowers book...

-

Glamorous Cities... Strong Men... Smart Beautiful Women... *A Window to Love * * http://www.amazon.com/dp/B00EG0CXQ4* Melissa Bennette, a young beautiful...

4 months ago

Rustic farmhouse in grey...

-

It really feels like fall here finally and I can just imagine what a wonderful gift it would be to spend this season in a beautiful home like this. T...

10 months ago

Justa Decor Birthday Quiz!

-

WHOOT! It's that time again…the best day of the year! It's the Thrifty Justa Decor Girls' birthday! ;) If you are totally confused – today is my birthday. A...

10 months ago

Foodie Friday

-

*Hummus* One of my 'bff's' is a lovely Lebanese gal who is *ONE* fantastic cook. I asked her recently for her hummus recipe and like many good cooks she h...

1 year ago

Tuesday Tip

-

You can never have enough seating! So why not make it portable, flexible and a little thrifty? One of 2 benches in the client's foyer. This is exactl...

1 year ago

lately

-

Clearly I'm having a hard time blogging. Lots going on around here. I decided to renovate and add on to our house while very pregnant, which I would not ...

2 years ago

Kenneth Brown Came for a Visit!!

-

Last week, we were very excited to welcome the unparalleled Kenneth Brown to our shop! Here he is with me and Jennifer Uddo who is part of our Interior De...

3 years ago

Anna, ANNA, Anna!

-

Introducing you to my amazing friend, wife, mama of 3, artist & seriously cool girl! I love her art as much as her spirit. Anna has been painting & creat...

3 years ago

Mota-Scoota Time!

-

Here's the deal. We're getting a scooter. Namely, the scooter below. My first thought: "YEZZZZZZZ!" My second thought "Ummm, I'm going to really have to...

3 years ago

NEW BLOG!

-

HI EVERYONE! I GOT A NEW (EASIER TO USE FROM MY IPHONE! ) BLOG. PLEASE CLICK HERE TO GET TO THE NEW SITE AND CHECK IT OUT. THEBIGEASYLIFE.AMANDATALLEY.COM

4 years ago

Are you pinterested?

-

Pinterest. Wow, it is addictive. Like, scary addictive. Are you pinning yet? If you are, let me know, and I will follow you. Follow me here. Don't...

4 years ago

Absence makes the heart grow fonder...

-

Where have I been? Everywhere but here lately. There was a temporary shift in priorities and am now returning to my passions, including interior design. Ther...

4 years ago

NOLA Books

Labels
Acadiana Symphony Decorator Showhouse
All Things Bright and Beautiful
Ann Dupuy
Arthur Roger Gallery
Belle Grove
bon bon chandelier
chandelier giveaway
Chretien Point
Cole Pratt Gallery
Costumes
cote de texas
Craig Henry
Creole Houses
Creole Thrift
elizabeth chandelier
Farrington Smith Gallery
Faulkner House
fifi laughlin
Flavor Paper
Gallery Bienvenu
George Dureau
Gerrie Bremermann
Ghosts Along the Mississippi
Gogo Borgerding
handpainted furniture
Hazelnut
Henri Schindler
ingrid chandelier
ingrid lantern
Jennifer Shaw.
Jonathan Ferrara Gallery
Jonathan Shaw
Julie Neill
Julie Neill Designs Custom Lighting
Julie Neill Gallery
Karyl Pierce Paxton
Labatut House
Lafayette
Leontine Linens
Louisiana Homes and Gardens
Madeleine Castaing
Madewood
Mardi Gras
Mardi Gras Decorations
Mardi Gras Treasures
McLain Homes
Michelle Rosato Tullis
New Orleans Elegance and Decadence
New Orleans Homes and Lifestyles
New Orleans Museum of Art
New Orleans Style
Oak
Oak Alley
Ogden Museum
Parades
Paul Gruer
Peter Marino
plastered chandelier
Rex
Rosemary James
Soren Christensen Gallery
Southern Accents
Stylecourt
Swamp Palazzo
the love list
The Times Picayune
winters chandelier
Woodlawn Plantation

Blog Archive

Press Clippings