Liz Bordes in her beautiful home, which she and her husband, Lance completely renovated and decorated themselves, on the cover of New Orleans Homes and Lifestyles Magazine
In the very surreal days of the city's repopulating following the evacuation after Hurricane Katrina, a truly amazing couple found their way into my shop. That couple was Lance and Liz Bordes. I was struck immediately by their hopeful outlook, by their high level of energy, by their outgoing, story telling, laughter loving, friendship forming ways. These two people were very obviously in love with each other and with life. They were a dose of delight during a very tenuous time.
They came into my shop looking for a special chandelier for the entrance in the house they were renovating. It was not a typical high ceilinged uptown house, in fact the ceilings were pretty low, and Lance and Liz were looking for something to be custom made that would be fabulous and welcoming and would set the tone for the house, but it had to be pretty short to accomodate the low ceiling in that space. I agreed to do some sketches for them and call them in a few days.
Well, the very next day, they came back in to see me. They said that although they had already purchased a chandelier for their dining room, that they wanted one of my pieces and had decided to use the other one somewhere else in the house.
After looking at some of the samples that were in the shop at the time, and considering their options for having another custom piece made, Lance pointed to a chandelier that we had just hung up after completing it as a custom piece for another client. "Baby," he said to Liz, "this one's speaking to me."
"Then, Baby, that's the one we'll get."
From then on, Lance and Liz have been one of my favorite couples to work with.
Here's what I came up with for the Entry Not too tall but still fabulous, and of course, it's named Elizabeth
Elizabeth Close up This is the "Hello Moment" Lance and Liz were looking for.
The talented couple in their sitting room with their beloved cat, Baby Oatmeal. The painting is by Aaron Collier from Cole Pratt Gallery.
A corner of the Entry with the inevitable french chair adds a welcoming presence to this inviting space
Baby, this Dining Room speaks to me. The fabulous chandelier was chosen by Liz and Lance to light up their hip, casual entertaining style. The crowns at the top and bottom of the fixture remind guests that they're being entertained royally by the king and queen of style and decor.
The Master Bedroom is a study in cool, sophisticated glamour. Crisp whites combined with robin's egg blue and chocolate brown provide a an atmosphere of calm. Jonathan Adler headboard and benches are from Hazelnut and the bed linens are from my friend, Jane Scott Hodges' Leontine Linens. The graphic brown and blue rug by Angela Adams gives the room its edge.
Lance designed and built the Hollywood vanity as a surprise for Liz.
Liz and Lance Bordes are truly a special couple. An excerpt from the article:
A tour through the Bordes' home reveals that this dream house is as much about their life together as it is about the perfect interplay of its carefully considered parts. Displayed thoughout the house are various items, including an antique radio and pieces of Fiestaware, found in the houses that the couple has renovated. There are also family items like the Japanese goddess handed down from an aunt, mementos like the plate invitation from the couples' 2004 wedding, and an antique Navajo prayer pot used during the ceremony.
The Bordes home is beautiful because it reflects the couple who designed it and reside in it. Congratulations, Lance and Liz!
Labels:
Cole Pratt Gallery
,
Hazelnut
,
Leontine Linens
,
New Orleans Homes and Lifestyles
|
21 comments
|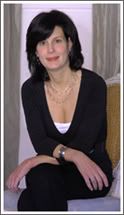 I am the owner of Julie Neill Designs in New Orleans where we create beautiful custom lighting. This blog is my love letter to the unique people, places and happenings which make New Orleans the amazing place it is.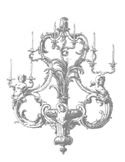 Please visit my website to learn more about my lighting and our fabulous shop on Magazine Street.

www.julieneill.com

My Blog List
Tobi TV: 6 Ways to Get Luxe Looks for Less

-

We all want the sophisticated and chic designs that we see in magazines, but our pocketbooks may not feel the same way about luxury design as we do! There ...

4 hours ago

Adventures in Vienna

-

If your looking for new adventure, Vienna is the place to explore. The Austrian capital is bursting with Imperial history and Baroque architecture, with a ...

22 hours ago

Books In My Library Now: A quick look with happy snaps, inspiration, favorite reading, new books…and my obsession with the new Cabana, issue 6

-

This week I'm taking you all on a quick voyage around a corner of my library with current favorites. There's the new 'Capability Brown' garden book from ...

22 hours ago

Awakening to You in Boston is FREE!!!

-

Time to READ Fifi's Awakening to You Trilogy... Get started for FREE with Awakening to You in Boston... Sofie James is a successful set designer, tryin...

2 days ago

Decorating for the Festive Season

-

When I lived in the UK, the train stations used to advertise the train times for "The Festive Season", thereby encompassing all of the myriad holidays that...

3 days ago

NEW BLOG ON PROPORTIONS IS FINALLY UP!!

-

6 days ago

Quatreau Faucet

-

I recently discovered the Quatreau multifunctional touch screen faucet which I imagine would do just that. It delivers instant boiling, chilled, or sparkli...

1 week ago

Home for the Holidays 2016

-

I recently had the pleasure of attending a preview of Atlanta Homes & Lifestyles' Home for the Holidays showhouse. An Atlanta holiday tradition, the show...

2 weeks ago

Chapel Hill Part 4

-

To wrap up the tour of our Chapel Hill design we have all the other rooms in the home. I could not think of an overriding theme so there you go… Just phot...

3 weeks ago

A Fresh New Look

-

I have heard it said that a good rain shower is equivalent to offering a fresh start. As if the showers are washing away what was and offering an opportuni...

1 month ago

Patricia Gray | Fine Art

-

My art #featured in the Interior Design Show Vancouver catalogue. Drop by and say Hi this weekend @ booth 703. A big thank you to everyone at IDS West for ...

2 months ago

Sneak peek: the Atlanta Homes & Lifestyles 2016 Southeastern Showhouse

-

I was able to get a sneak peek of the the much anticipated Atlanta Homes & Lifestyles Southeastern Showhouse, and it is truly amazing. Many of the most tal...

7 months ago

Easter gift guide

-

If you're anything like me Amazon Prime rescues you from a late night run to Target right before every holiday. I've put together a few Easter gift idea...

8 months ago

Flower Show

-

[From Alexander McQueen's spring/summer 2016 campaign photographed by David Sims; model Natalie Westling] Beguiled by Sarah Burton's use of florals in h...

9 months ago

INSPIRATIONS

-

*I walked down to Bush Antiques the other day to bite the bullet and buy a French three-quarters daybed that had been haunting me. I started to talking ...

1 year ago

Foodie Friday

-

*Hummus* One of my 'bff's' is a lovely Lebanese gal who is *ONE* fantastic cook. I asked her recently for her hummus recipe and like many good cooks she h...

2 years ago

Tuesday Tip

-

You can never have enough seating! So why not make it portable, flexible and a little thrifty? One of 2 benches in the client's foyer. This is exactl...

2 years ago

Kenneth Brown Came for a Visit!!

-

Last week, we were very excited to welcome the unparalleled Kenneth Brown to our shop! Here he is with me and Jennifer Uddo who is part of our Interior De...

4 years ago

Southern as a Sazerac: My Latest Article in The Independent Weekly Bridal Guide

-

Once upon a time there was a little girl who eloped. She wanted nothing more than to step out of the limelight and run from every part of planning a wedd...

4 years ago

Are you pinterested?

-

Pinterest. Wow, it is addictive. Like, scary addictive. Are you pinning yet? If you are, let me know, and I will follow you. Follow me here. Don't...

5 years ago

Absence makes the heart grow fonder...

-

Where have I been? Everywhere but here lately. There was a temporary shift in priorities and am now returning to my passions, including interior design. Th...

6 years ago

NOLA Books

Labels
Acadiana Symphony Decorator Showhouse
All Things Bright and Beautiful
Ann Dupuy
Arthur Roger Gallery
Belle Grove
bon bon chandelier
chandelier giveaway
Chretien Point
Cole Pratt Gallery
Costumes
cote de texas
Craig Henry
Creole Houses
Creole Thrift
elizabeth chandelier
Farrington Smith Gallery
Faulkner House
fifi laughlin
Flavor Paper
Gallery Bienvenu
George Dureau
Gerrie Bremermann
Ghosts Along the Mississippi
Gogo Borgerding
handpainted furniture
Hazelnut
Henri Schindler
ingrid chandelier
ingrid lantern
Jennifer Shaw.
Jonathan Ferrara Gallery
Jonathan Shaw
Julie Neill
Julie Neill Designs Custom Lighting
Julie Neill Gallery
Karyl Pierce Paxton
Labatut House
Lafayette
Leontine Linens
Louisiana Homes and Gardens
Madeleine Castaing
Madewood
Mardi Gras
Mardi Gras Decorations
Mardi Gras Treasures
McLain Homes
Michelle Rosato Tullis
New Orleans Elegance and Decadence
New Orleans Homes and Lifestyles
New Orleans Museum of Art
New Orleans Style
Oak
Oak Alley
Ogden Museum
Parades
Paul Gruer
Peter Marino
plastered chandelier
Rex
Rosemary James
Soren Christensen Gallery
Southern Accents
Stylecourt
Swamp Palazzo
the love list
The Times Picayune
winters chandelier
Woodlawn Plantation

Blog Archive

Press Clippings