The exciting news around New Orleans these days is that Ashley Longshore, the talented, incomparable artist extraordinare has been chosen by Anthropologie to design a line of one of a kind handpainted chairs for their fall collection. This line, named ASHLEY LONGSHORE FOR ANTHROPOLOGIE, is the launch of an entirely new division for the furniture department of Anthropologie .
Much like the artist herself, Ashley's work is exuberant and celebrates the enjoyment of all life has to offer. In my opinion, her work is decidedly feminine and fun, and reminds us that life can be a colorful celebration which encompasses all the senses.
Ashley is quite the wild woman and never one to do anything half way. She truly lives life to the fullest, so when she heard that Anthropologie was coming for a visit,she had the scene set with over 1 00 paintings and chairs featuring her artwork.
" There were 3 prototype chairs that I painted on directly so the Anthropologie team could actually visualize my artwork on furniture,…and they loved them! They were my story boards for the presentation and they worked!!!!!!!"
Anthropologie had been searching New Orleans for artistic talent for their upcoming collections. An eight member design team including Chief Merchandising Officer Wendy Wurtzburger  visited Ashley's Magazine Street gallery and the really liked what  they saw.
"I am honored to be the first artist for this new furniture concept", says Longshore.
The line will be known as "Ashley Longshore for Anthropologie."
Ashley went to the Anthropologie headquarters in Philadelphia to see the mock ups for the chair line featuring one of her swimmer paintings.  The UK furniture buyer for the new International Anthropologie stores, to be opened in London in the late fall, fell in love with ASHLEY LONGSHORE for ANTHROPOLOGIE. The chairs will be featured in the stores in London, in the catalog and on website in September.
In my opinion, Anthropologie has made themselves quite a find in Ashley Longshore.
Her paintings are the embodiment of unbridled exuberance and indicate that this girl is all girl, and she approaches her life and work with everything she has.
Her girl paintings are an homage to femininity, beauty and grace. They are gorgeous, elegant, confident,and alluring. I especially love her Audrey Hepburn series.
They tell a story of style and grace. They celebrate beauty for beauty's sake.
They have an element of mischief and seem to be subtly autobiographical.
For anyone who's been lucky enough to meet her, they will quickly find out that Ashley is the life of any party she attends.
I was lucky enough to share a great time with Ashley and a few other very talented people the other night at a fabulous party given by the gorgeous Amanda Talley, another of New Orleans' artistic stars at her Magazine Street Gallery! Oh what a fun and festive evening it was!
In most of her paintings, there is the party element, the reminder to celebrate.
With good food and drink and a happy attitude. They remind us  that life is beautiful.
Ashley actually started painting as a way to deal with some trying times in her life. Her work was a way to transcend pain with the pleasure of painting, and so it is that her paintings both express and bring so much pleasure.
They can lift you up if you're feeling crabby.
They remind you that life is sweet.
And that you should go with the flow.
Sometimes she gives us good advice.
And words to live by.
She paints soulful, heartfelt portraits. You can feel the love she has for her subjects.
Her paintings show no reservation in expressing her emotions. And show that she's not afraid to love and be loved.
She's truly the Queen of the Scene.
And has something to crow about!
Because talent like Ashley's doesn't go unnoticed. So keep an eye on this girl. Because this artist, one of New Orleans' gems, has only just begun!
Just watch this:
According to Ashley,"Anthropologie has been one of my favorite stores since the mid- 90's. I have dreamed of working with them in some way.  This is just the beginning with this company."    For the spring collection, ASHLEY LONGSHORE FOR ANTHROPOLOGIE  will be working on additional furniture, including a sofa.
Congratulations, Ashley and best of luck in your new venture!
116 comments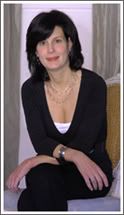 I am the owner of Julie Neill Designs in New Orleans where we create beautiful custom lighting. This blog is my love letter to the unique people, places and happenings which make New Orleans the amazing place it is.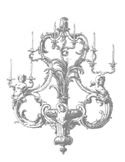 Please visit my website to learn more about my lighting and our fabulous shop on Magazine Street.

www.julieneill.com

My Blog List
This & That: No. 147

-

~Beauty ~Molton Brown, London At my recent stay at Portland's White House Bed & Breakfast, I discovered a line of lotions and bath products that were qui...

1 day ago

I'll Take This: Canal Boat in Little Venice, London

-

When I was in the UK in November/December, I stayed on the most delightful canal boat. It was cozy and snug and I loved every minute of it. The canals in Lon...

1 day ago

Traveling with Tracery

-

Earlier this month the Tracery girls took a trip up to NYC for the New York market! We wanted to Continue reading →

1 day ago

My New Partnership with Duralee

-

This summer, I was thrilled to partner with Duralee for the Hampton Designer Showhouse! They have been one of my favorite vendors for years, but getting to...

3 days ago

Dear Miss Cote de Texas: Kitchen Issues

-

[image: WRITING-LETTER (2)] And today, we have a new Dear Miss Cote de Texas decorating problem!! I am wondering if you have a suggestion for m...

4 days ago

Into the Wild: On Safari in India and Dreaming of Magnificent Tigers at Sher Bagh Camp

-

I was in India recently working on a book project—and I took time off to spend four days at Sher Bagh, a very special tiger camp in Rajasthan in Northern ...

4 days ago

Home Tour: Dottebob Andes

-

One of the many highlights of my book tour was visiting my sweet friend, Dottebob Andes, in her chic Philadelphia-area home. Prior to my visit, I was aw...

5 days ago

mano farm...

-

Every Sunday, Steve and I take our wicker shopping basket to the Ojai Farmer's Market. A couple of months ago, I stopped at one of the booths to admire thi...

5 days ago

On the market: a Suzanne Kasler house featured in Architectural Digest

-

Several years ago, I noticed a house come on the market that was truly exceptional. The architecture, landscape, and interior design were all exquisitely don...

1 week ago

The Finds

-

[1920s Indian embroidery at Joss Graham, a 2015 LARTA exhibitor.] Just a reminder that when I'm not here, you can find noteworthy textiles here and here. B...

1 week ago

LCI residential project

-

I hope you have enjoyed seeing our recent project. Photography by Chris Edwards

2 weeks ago

Awakening to You Trilogy: Complete Story by Fifi Flowers

-

Warm up the Holiday Season with a Charming yet Suspenseful Story... Awakening to You Trilogy: Complete Story by Fifi Flowers US: http://www.amazon.comdp/B...

2 months ago

Patricia Gray's Taste of Life

-

[image: Patricia Gray Interior Designer] *Patricia Gray, award-winning interior designer and global aesthete* When Patricia Gray designed a residence fo...

3 months ago

Rustic farmhouse in grey...

-

It really feels like fall here finally and I can just imagine what a wonderful gift it would be to spend this season in a beautiful home like this. T...

4 months ago

Justa Decor Birthday Quiz!

-

WHOOT! It's that time again…the best day of the year! It's the Thrifty Justa Decor Girls' birthday! ;) If you are totally confused – today is my birthday. A...

4 months ago

Foodie Friday

-

*Hummus* One of my 'bff's' is a lovely Lebanese gal who is *ONE* fantastic cook. I asked her recently for her hummus recipe and like many good cooks she h...

9 months ago

Tuesday Tip

-

You can never have enough seating! So why not make it portable, flexible and a little thrifty? One of 2 benches in the client's foyer. This is exactl...

10 months ago

lately

-

Clearly I'm having a hard time blogging. Lots going on around here. I decided to renovate and add on to our house while very pregnant, which I would not ...

1 year ago

Kenneth Brown Came for a Visit!!

-

Last week, we were very excited to welcome the unparalleled Kenneth Brown to our shop! Here he is with me and Jennifer Uddo who is part of our Interior De...

2 years ago

Anna, ANNA, Anna!

-

Introducing you to my amazing friend, wife, mama of 3, artist & seriously cool girl! I love her art as much as her spirit. Anna has been painting & creat...

2 years ago

Mota-Scoota Time!

-

Here's the deal. We're getting a scooter. Namely, the scooter below. My first thought: "YEZZZZZZZ!" My second thought "Ummm, I'm going to really have ...

2 years ago

NEW BLOG!

-

HI EVERYONE! I GOT A NEW (EASIER TO USE FROM MY IPHONE! ) BLOG. PLEASE CLICK HERE TO GET TO THE NEW SITE AND CHECK IT OUT. THEBIGEASYLIFE.AMANDATALLEY.COM

3 years ago

Are you pinterested?

-

Pinterest. Wow, it is addictive. Like, scary addictive. Are you pinning yet? If you are, let me know, and I will follow you. Follow me here. Don't...

3 years ago

Absence makes the heart grow fonder...

-

Where have I been? Everywhere but here lately. There was a temporary shift in priorities and am now returning to my passions, including interior design. Ther...

4 years ago

NOLA Books

Labels
Acadiana Symphony Decorator Showhouse
All Things Bright and Beautiful
Ann Dupuy
Arthur Roger Gallery
Belle Grove
bon bon chandelier
chandelier giveaway
Chretien Point
Cole Pratt Gallery
Costumes
cote de texas
Craig Henry
Creole Houses
Creole Thrift
elizabeth chandelier
Farrington Smith Gallery
Faulkner House
fifi laughlin
Flavor Paper
Gallery Bienvenu
George Dureau
Gerrie Bremermann
Ghosts Along the Mississippi
Gogo Borgerding
handpainted furniture
Hazelnut
Henri Schindler
ingrid chandelier
ingrid lantern
Jennifer Shaw.
Jonathan Ferrara Gallery
Jonathan Shaw
Julie Neill
Julie Neill Designs Custom Lighting
Julie Neill Gallery
Karyl Pierce Paxton
Labatut House
Lafayette
Leontine Linens
Louisiana Homes and Gardens
Madeleine Castaing
Madewood
Mardi Gras
Mardi Gras Decorations
Mardi Gras Treasures
McLain Homes
Michelle Rosato Tullis
New Orleans Elegance and Decadence
New Orleans Homes and Lifestyles
New Orleans Museum of Art
New Orleans Style
Oak
Oak Alley
Ogden Museum
Parades
Paul Gruer
Peter Marino
plastered chandelier
Rex
Rosemary James
Soren Christensen Gallery
Southern Accents
Stylecourt
Swamp Palazzo
the love list
The Times Picayune
winters chandelier
Woodlawn Plantation

Blog Archive

Press Clippings